DRY-RUNNING PISTON COMPRESSOR WITH ELECTRO-HYDROSTATIC DRIVE
sera has provided reliable gas compression solutions without oil, contamination or leakage for many decades. Our newly developed, innovative dry-running piston compressors with electrohydrostatic drives perfectly complement our established metal diaphragm technology. They enable reliable and energy-efficient compression of particle-free gases such as hydrogen, nitrogen, helium, argon or ethylene to extreme pressures without the use of lubricants. These innovative piston compressors from sera are ideal when large quantities of gas need to be compressed cost-effectively and safely.
Contamination of the medium with hydraulic fluid from the drive system is eliminated by the vertical format and the design of the compressor units. This makes it possible to safely dispense with complex and expensive sensors for detecting drive fluid.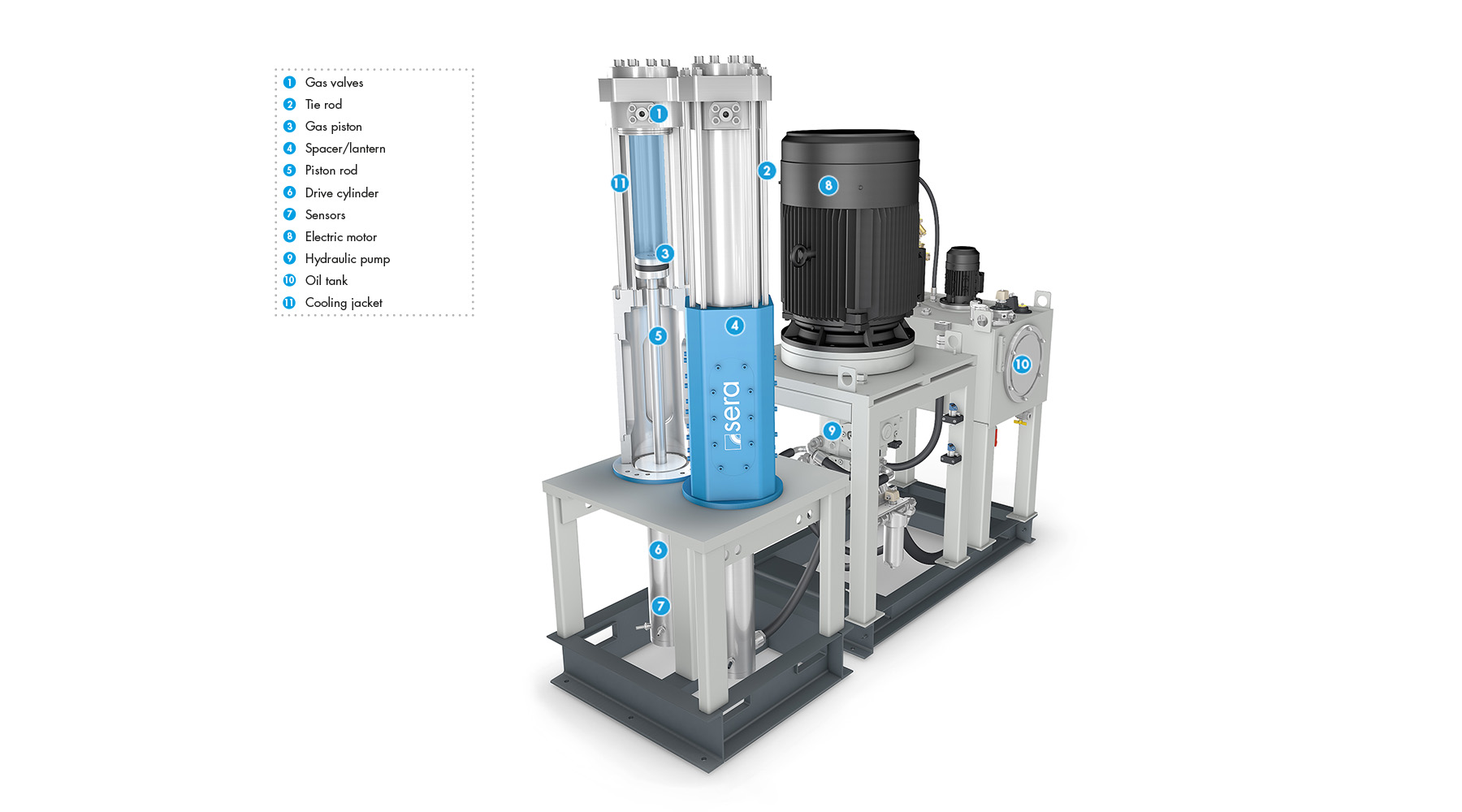 ADVANTAGES AT A GLANCE
• Oil-free, safe compression
• Robust design
• High availability
• Energy-efficient drive unit
• Compact footprint
• Easy servicing
AREAS OF APPLICATION
• Hydrogen refuelling stations
• Power-to-Gas
• Technical gases
• Airbag inflators
• Hot isostatic presses
• Pressure testing technology
DESIGN AND MECHANICS
The compressor unit consists of two coaxially arranged vertical gas cylinders, each mechanically connected to and driven by a hydraulic cylinder. A space between the gas cylinders and drive cylinders safely prevents hydraulic fluid from contaminating the medium. The two drive cylinders are hydraulically coupled with each other via a connecting line. The gas cylinders are liquid cooled using an outer cooling jacket. This dissipates frictional heat and significantly extends the service life of the seal and guide systems. The hydraulic cylinders are driven by a hydraulic power unit. Systems with a regulating pump allow infinitely variable control of changes to the number of piston strokes. Changes in stroke direction are controlled by contactless proximity switches. A particularly advantageous feature is the use of a pivotable axial piston pump which allows the drive cylinder stroke direction to be changed directly by the pump itself. This creates a highly energy-efficient electrohydrostatic drive system. Due to the absence of directional control valves, which are subject to loss, the drive cylinders are pressurised directly by the hydraulic pump oil flow. This creates a robust drive system with integrated overload protection.
DOWNLOAD
Product Information for DRY-RUNNING PISTON COMPRESSOR WITH ELECTRO-HYDROSTATIC DRIVE