100% commitment on the future of hydrogen technology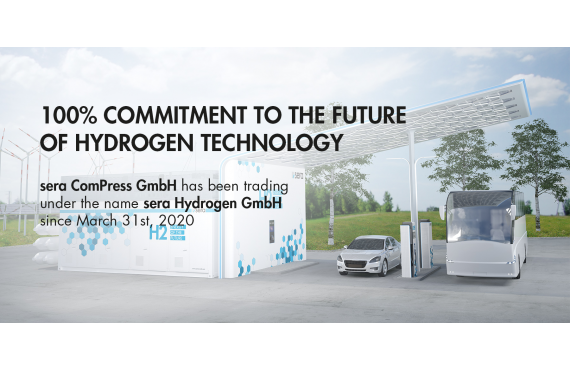 sera ComPress GmbH operates under the name sera Hydrogen GmbH since March 31st, 2020. This underlines the sera Group's commitment to the future market of hydrogen technology.
There will also be an expansion in the management of the renamed company. Frank Kühneweg will be another managing director of sera Hydrogen GmbH alongside Carsten Rahier and Stephan Hillebrand.
The product portfolio will remain in its entirety. All industries and processes outside the hydrogen technology will be supported as usual.
"In order to meet the dynamics and the requirements of this future market, we have decided to send a signal to the outside world that underlines our goals. Therefore we have renamed the former sera ComPress GmbH to sera Hydrogen GmbH. 100% commitment to H2" explains Stephan Hillebrand, managing director of sera Hydrogen GmbH.
With more than 50 years of experience in the treatment of hydrogen and more than 1,000 hydrogen compressors in the field, the sera group of companies can rely on extensive know-how. sera is the only supplier on the market to offer three different technologies in the compressor sector and can therefore serve all processes of the hydrogen industry.
The heart of every hydrogen system is the compressor! From this relevant component, sera develops and optimises concepts in order to live the implementation of sustainable and innovative products of the energy of the future in accordance with the company motto "We create added value for people and the environment".
About sera:
The sera Group is an independent family business group with headquarters in Immenhausen in the middle of Germany. With a turnover of almost 25 million Euros in 2019, the sera Group employs more than 230 employees worldwide.
Since the company was founded in 1945, the name sera has stood for innovation, reliability and flexibility and has since then been one of the world's leading German companies in the field of dosing and compressor technology. sera provides efficient application solutions that are optimally adapted to the customer requirements, where the exact dosing, conveying and compression of liquids and gases is important.
The core competencies dosing and compressor technology are represented by sera ProDos GmbH and sera Hydrogen GmbH.
With the sera companies in Germany, the subsidiaries in Great Britain (sera ProDos UK Ltd.), South Africa (sera ProDos SA (PTY) Ltd.), Spain (sera ProDos S.L.), Austria (sera Technology Austria GmbH) and Switzerland (sera Technology Swiss GmbH) as well as the more than 30 strong partners representing sera in more than 80 countries, sera guarantees optimal support, consulting and service on site worldwide.