Hop oil dosing is a tasty proposition with sera dosing systems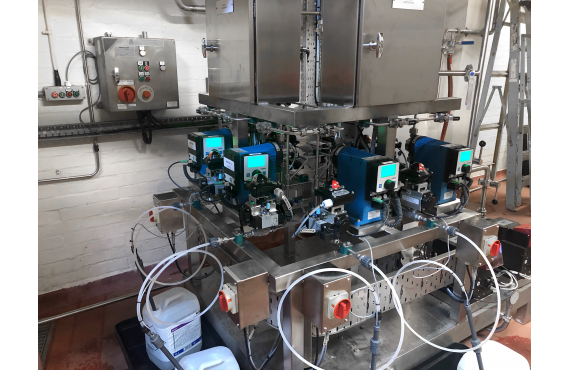 Hop oil dosing is a tasty proposition with sera dosing systems
In some countries, hops are added to beer in the form of hop oil to give it a bitter note. For a customer in England, the colleagues at sera Technology UK Ltd. constructed not only a dosing system for this purpose, but a complete turnkey solution.
Hops are used to impart a bitter taste and aroma into many beers. This is normally done by adding Hop Pellets or Hop Flakes, but this is inaccurate and manually time consuming. Different Hops impart different profiles, Hop Oils are very expensive and can leave "Haze" in the beer so they need to be added in a controlled system and the beer may need filtering after adding the Oil.
Due to the rapid mixing required a proportional laminar dosing pump was required so the use of stepper motor technology was important. On this basis we chose the iSTEP S20 from our stepper motor range. The sizing of the iSTEP S20 will allow the pump to be running at a slow output stroke speed where needed but with enough capacity available to reach any future requirements.
Engineering
Using the customer design parameters and good engineering practice we put together a process P&ID to show the type of system we were going to offer. Build The dosing skid was designed on SolidWorks by the pipework installer to incorporate the 4 x Suction Lance selection valves as well as the 4 x Dosing Pump selection valves. In addition to this there are also the automatic flushing valves and pipework.
Installation
The P&ID and skid drawing were then used to build the system, with the field equipment being installed directly in the pipework at the point of injection. All of the hardware items were connected to a remote IO panel designed as part of this project, for direct process control by the site PLC.
Commissioning
The dosing skid was designed to incorporate the 4 x Suction Lance selection valves as well as the 4 x Dosing Pump selection valves. In addition to this there are also the automatic flushing valves and pipework. This allows a can of oil to run out and seamless swap over to the spare can without stopping. The pumps are timed to run on duty for 24 hours and then swap to the standby pump for the next operation to allow for like for like run times on the dosing pumps. sera - we make sure that beer tastes like beer