iSTEP® - iNTELLIGENT – iNNOVATIVE - iNTUITIVE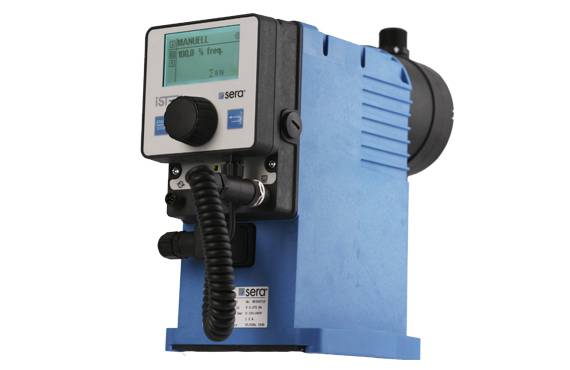 The known controllable diaphragm pumps from sera are especially powerful, robust, and precise. Around the world, customers from all imaginable industries are thrilled with the quality and flexible usage options of this controllable design, which can be used for a wide variety of applications and is especially reliable.
It was against this background that sera developed its new stepper motor pump model series iSTEP®. This new model series unites an intelligent drive concept function on the basis of a step motor with the precision of a diaphragm dosing pump.
It will be available as iSTEP® S for the performance range of 0,015 l/h to 50 l/h at up to 10 bar.
Further sizes will follow in 2016.
The drive concept is especially suited to dosing tasks requiring liquid media to be dispensed in a highly precise and consistent manner. With a broad adjustment range of 1:1000 and the variable options associated with speed adjustment, the areas of application are almost endless.
In connection with its corresponding microprocessor-controlled electronics, the new drive concept offers a variety of new functions. It is operated through a removable graphic display using a push button and click wheel, which enables the user to adjust the parameters with ease.
Multilingual, intuitive menu navigation and a power supply system accommodating 110-240 V, 50/60 Hz make it possible to use the pump around the world.
Various modes can be used to control the pumping capacity: The pump can be controlled using analogue or pulse signals as needed. Timer functions, weekday controlling, or a batch mode are also available. Slow mode makes it possible to individually adjust the execution of the intake and discharge strokes for especially demanding dosing tasks such as the dosing of viscous media. The option to connect the pump with a bus system also exists.
Messages are relayed in clear text through the graphic display. Each standard pump is outfitted with a diaphragm. Together with the display of service reminders, this works to minimize idle time.
The features of the iSTEP® model series listed individually are as follows:
Power supply 110-240 V, 50/60 Hz

Protection grade IP65

Microprocessor-controlled drive

Graphic display with color change for optical signaling of the operation status

Multilingual parameterization using a menu

Analog and pulse input (speed increase and reduction)

Weekday/timer function, batch metering

Level input with pre-alarm and main alarm

Diaphragm monitoring

Signal exchange through digital and analogue inputs and outputs

Optional bus connection
Advantages and customer´s benefits:
Extremely wide performance range with only one pump

Batch dosing with recipe memory

Display of service reminders

SD-Card Slot for chemical consumption report