NEXT STEP!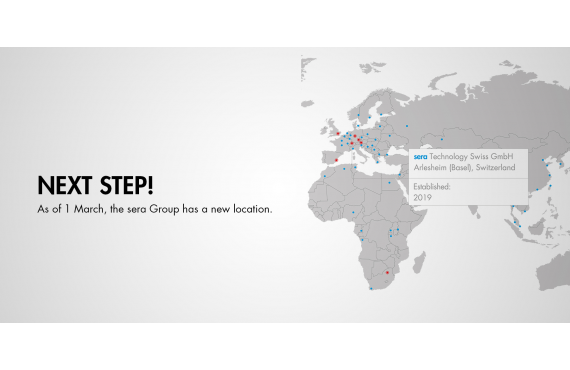 sera GmbH PRESS RELEASE
The sera Group establishes a branch in Switzerland
 sera Group continues to implement its growth strategy.
 sera will establish sera Technology Swiss GmbH on 1 March 2019.
On 1 March 2019 the sera Group will expand its branch network with the addition of an office in Switzerland. This means that, in addition to its headquarters in Immenhausen and branches in the UK, Spain, South Africa, Austria and Southern Germany, the globally active supplier of dosing and compressor technology will also have a presence in Switzerland in the future.
"Our goal is clear: to consistently expand the international distribution of our products and solutions. This permanent presence at additional locations will also further improve our on-site service quality and we will be even closer to our customers, therefore continuing to build upon one of our strengths," says Carsten Rahier,
Managing Partner of the sera Group.
Dominique Bartoli will be the Managing Director of sera Technology Swiss GmbH in Arlesheim in the canton of Basel.
By appointing Dominique Bartoli, sera has gained an experienced Managing Director with extraordinary expertise in the field of dosing technology for the team in Switzerland. "Thanks to the establishment of sera Technology Swiss GmbH, the sera Group can enjoy close proximity to our customers in Switzerland in the future. My team and I are looking forward to the new project and this exciting challenge," says Dominique Bartoli, Managing Director of sera Technology Swiss GmbH.
sera Technology Swiss GmbH will offer products from the field of dosing technology, including dosing pumps, high-pressure pumps and dosing equipment, as well as customised systems. The product range is complemented with the extensive range of services on offer.
About sera:
The sera Group is an independent, family-owned company group with headquarters in Immenhausen, which is located in the heart of Germany. With a turnover just short of 23 million euros in 2018, the sera Group employs over 220 people all over the world.
Since its founding in 1945, sera has stood for innovation, reliability and flexibility and has been one of the world's leading German enterprises in dosing and compressor technology ever since. sera offers efficient application
solutions that are optimally tailored to customer requirements, thus ensuring the precise dosing, conveying and compression of liquids and gases.
The core competencies of dosing and compressor technology are represented by sera ProDos GmbH and sera ComPress GmbH.
With the sera enterprises in Germany, subsidiaries in the UK (sera ProDos UK Ltd), South Africa (sera ProDos SA (PTY) Ltd.), Spain (sera ProDos S.L.), Austria (sera Technology Austria GmbH) and Switzerland (sera Technology Swiss GmbH), as well as over 30 strong partners representing sera in more than 80 countries, sera
guarantees optimal on-site support, advice and services throughout the world.