Plug & Play - Turnkey container dosing stations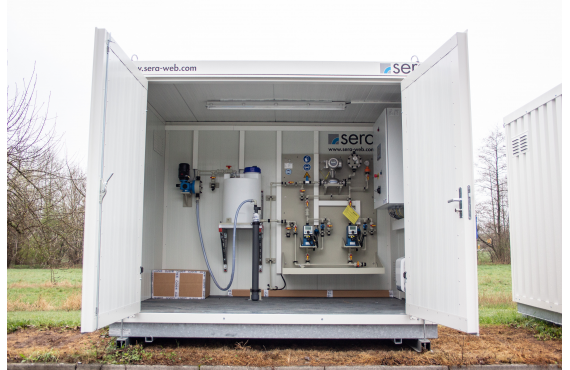 Plug & Play - Turnkey container dosing stations for the automotive sector
Increased flexibility with low effort – the need for turnkey container dosing stations in the industry is constantly increasing. sera has recognized this need and offers dosing stations for different applications as container complete solutions. Depending on the application, they are equipped with the appropriate dosing pumps, a control technology and complementary products as well as heating and ventilation technology, so that a year-round use is possible. Structural measures on the customer side are reduced to a minimum with a complete container solution, only a flat open space is needed, as well as the corresponding supply lines. Plug & Play - rapid commissioning is guaranteed. Adjustments or complete changes to the production can also be quickly implemented with a container dosing station from sera – by replacing or converting the existing container.
A customer in the automotive sector also appreciates the advantages of the sera Plug & Play container complete solution and ordered three container dosing stations, which are used to precisely dose a special additive to the operator-side diesel lines in a defined ratio.
The additive is kept as a barrel product in the containers and fed to a 75 litre buffer container via a sera refill pump including suction lance. From this buffer container, the sera stepper motor pumps of the type iSTEP dose the additive fully automatically in the pre-selected ratio to the on-site diesel lines. In order to achieve this as accurately as possible, both the diesel lines and the additive lines are equipped with flow meters. These are evaluated by a central control cabinet with PLC technology, which is also installed in the container station. All pumps, level probes, flow meters and other electrical peripherals are evaluated and controlled in a fully automatic manner by the sera system as well.
Safety functions such as emergency off switches or collection tubs with structural inspection approval are also part of the delivery, as are pipe monitoring systems, pipelines and other fittings for the on-site installation. The container dosing stations are insulated, heated and ventilated, so that a year-round outdoor operation can be easily guaranteed.
This customer also appreciates the turnkey container solutions from sera – only the further dosing lines and the central power supply have to be connected and the system is ready for commissioning.
Plug & Play container stations from sera provide the most accurate dosing in all conceivable processes of the industry – turnkey, secure and compact.