Politician Karin Müller, BÜNDNIS 90 / DIE GRÜNEN, visits sera as part of her summer tour 2016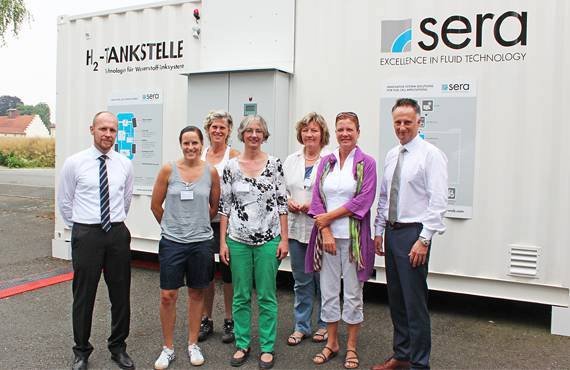 Karin Müller, Member of Parliament from BÜNDNIS 90/DIE GRÜNEN, uses the first week of the summer school holidays in Hesse for a summer tour through the Kassel county. "Summer is a great time for dialogue and exchange with representatives from companies, institutions and with citizens", Müller says.
On July 21st, 2016, her way led her to the sera Group in contemplative Immenhausen. There Stefan Merwar, Head of Marketing and Communication at sera GmbH, and Stephan Hillebrand, General Manager of sera ComPress GmbH welcomed the cycling delegation.
A short company presentation quickly resulted in an exchange which uses and added values sera products provide for the environment. sera gets involved in environmental technology with its products and for example ensures clean drinking water with ist dosing technology. Following a guided tour through the company, Stephan Hillebrand presented the shortly inaugurated company-owned hydrogen filling station to the summer tour participants. Karin Müller was enthused by sera's involvement in the sector of future environmental technology.
"It was a very informative morning at sera GmbH. We are leaving with some exciting impressions and will definitely recommend at one point or another", Karin Müller, Member of the Hessian Parliament, explains.