Renewal of the iron-III chloride dosing systems of the Delémont wastewater treatment plant (SEDE)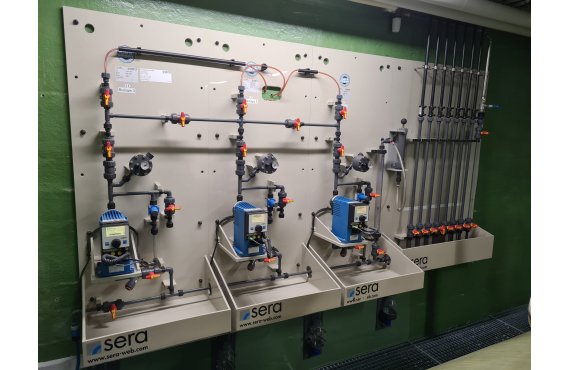 sera Technology Swiss GmbH was commissioned to replace the outdated dosing system for iron III chloride. For this purpose, the three sera dosing systems with iSTEP S20 stepper motor pumps were manufactured at our headquarters in Immenhausen, Germany.
The iSTEP stepper motor pump series is available in different flow ranges from 7 l/h to 50 l/h and offers almost infinite application possibilities due to the very high and precise adjustment range. The resolution of the range is 1:1000. The absolutely low-pulsation dosing ensures an optimal and uniform flow rate in the process application.
Pumpen data

iSTEP XS7

iSTEP XS15

iSTEP S20

iSTEP S30

iSTEP S40

iSTEP S50

Permissible pressure

at the pump outlet [bar]

10

7

10

7

6

3

Nominal capacity [l/h]

7

15

20

30

40

50

Capacity min. [l/h]

0,007

0,015

0,02

0,03

0,04

0,05
In this application, the iron-III chloride is dosed by the sera dosing systems with 9 litres per hour each into the respective clarification tanks. It should be possible to feed all three iSTEP20 stepper motor pumps from the three available storage tanks. In order to be able to implement these and other requirements of the sewage treatment plant in Delémont, the sera dosing systems were adapted according to customer requirements by sera Technology Swiss GmbH in Arlesheim:
Bypass pipe on the pressure side of the dosing system, through which the three dosing stations were connected, enables redundancy and uninterrupted dosing of iron-III chloride, even if one of the three iSTEP pumps should be serviced.
Pump displays showing the current litre output per hour, while the output signal was linked to the customer's existing plant control system.
Water flushing system for the suction lines from the iron-III chloride tanks to the dosing station. With this system, the pipes are regularly flushed with water as required to prevent deposits and thus also extend the service life of the plant.
The SEDE Delémont wastewater treatment plant is now up to date again and very satisfied with the customised sera dosing systems, which reliably dose iron III chloride in the desired quantity. Here, too, sera creates added value for people and the environment.