sera awards environment prize to "Betterrspace"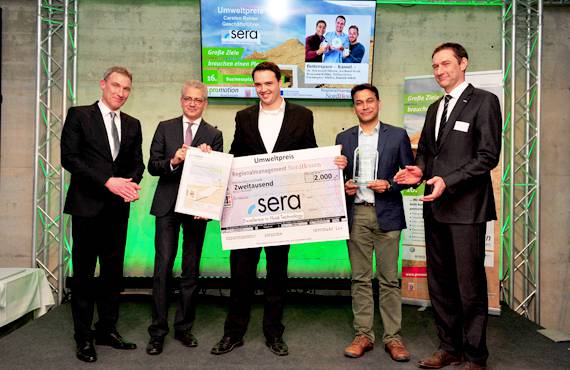 The nationwide business plan competition "promotion Nordhessen" renders lasting assistance when it comes to company foundations. The competition gives advice regarding business plans, has an active network management and imparts know how from successful founders. On March 4th, 2016, the winners oft he 16th business plan competition were chosen. According to the motto "Great goals need a plan" 48 business plans were submitted, eight thereof awarded.
sera Group conferred the environment prize, that is endowed with 2.000 € to Dr. Siwanand Misara, Gerhard Weiß, Benjamin Köhler, Tobias Gries, Christopher Müller and Patrick Sittek from Betterspace in Kassel. Their smart heat control system "better hotel" was specifically developed for the hotel sector. "better hotel" interconnects all radiators, automates proactively regulates them. The arising costs for heating in each hotel room can be reduced by up to 30 %. "better hotel" convinced the jury members from sera Group, Carsten Seeger, Head of Quality Management and Stefan Merwar, Head of Marketing and Communication. The innovative via smartphne adjustable controlling of heat systems for hotels and office complexes can easily be retrofitted and results in significant energy savings. The groundbreaking system is in use in hotels like the Schloßhotel Kassel already.
"They create real added values for people and the environment", Stefan Merwar, Head of Marketing and Communication at sera explains. ""Betterspace" not only saves money, but perspectively tons of CO2 as well", Carsten Seeger, Head of Quality Management adds.