sera Group awards environmental prize as part of the business plan competition promotion Nordhessen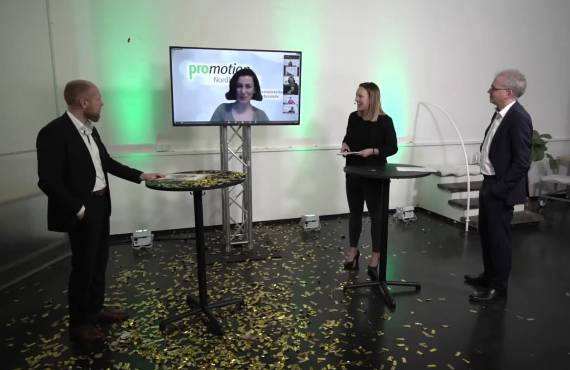 sera GmbH awarded the environmental prize donated by it and endowed with 2,000 € to the SHARDS team of founders from Kassel.
SHARDS are tiles made from construction waste. In 2018, 14.4 million tonnes of clay were mined for construction in Germany alone, while at the same time four times that amount of construction waste was produced. SHARDS has made it its mission to conserve resources and recycle construction waste. For this, the founders were already awarded the Federal Ecodesign Prize by the Federal Ministry for the Environment in 2018. SHARDS tiles are not only made of 100% construction waste - the tiles themselves can also be completely returned to the production cycle, so that old SHARDS tiles can be turned into new ones. No binders or dyes are used in the production of SHARDS tiles; only the fine interplay of the raw materials ensures a wide range of tiles - both visually and haptically. Customers can help design their own tiles and thus individually do something for the environment.
With this sustainable business plan, SHARDS was also able to convince the jury of the business plan competition promotion Nordhessen and took first place in the start-up competition. Once again, sera had the right nose and awarded the winner of the competition with the sera environmental prize.
"Here, real added values are created for people and the environment" explains Stefan Merwar, Head of Marketing and Communication at sera. "sera is committed to environmental protection in many ways. As an environmental technology company, we develop and produce solutions for a sustainable economy - whether hydrogen technologies for sustainable mobility or dosing systems that ensure clean drinking and service water - we want to make a sustainable contribution every day and also do this in the form of various sponsorships or in-house projects.
We all produce far too much waste - as individuals and as a society. Any opportunity to recycle discarded materials is a good one. With its tiles made from construction waste, SHARDS has created a solution that not only recycles discarded materials - it has also created a solution for design-savvy people who want to give their walls an individual but above all sustainable look. We are very pleased that this excellent idea comes from Kassel - and we are even more excited about the production that will soon start in Kassel. Congratulations to SHARDS!"