Technical Publication: Precise dosing – thanks to sera!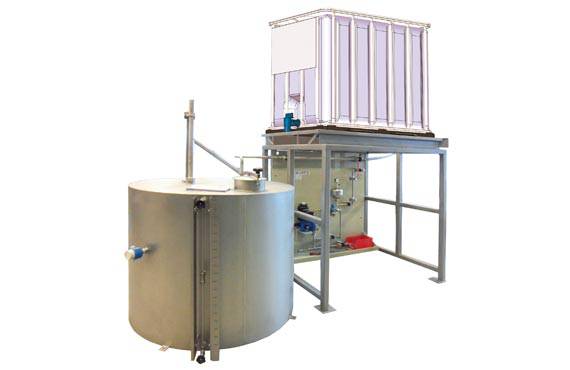 Styrene plastics are used in products of the automotive industry, in electronic components, and in household appliances.

The task of the sera customer that produces styrene plastics was clearly defined: The alternating supply of two reactors with different amounts of a detergent solution (Mersolath H3O) with a dosing pump.

The following conditions were specified:
Reactor 1 requires a supply of 30 litres in 30 minutes with an accuracy
of +/- 0,3 litres
Reactor 2 requires a supply of 1000 litres in three hours also with an accuracy of +/-0,3 litres
A stocking of at least 1,100 litres must also be available
Filling should be done from an IBC (Intermediate Bulk Container) without a transfer pump
The installation is to take place in Ex Zone 2
For application engineers from sera, an easy task. A dosing system with ATEX approval II2G c IIBT4 was conceived. This consists of a stainless steel dosing tank with a capacity of 2,000 litres and a receiving frame for an IBC.

The dosing tank is filled via the elevated IBC through a pipe with a flexible connector. The end of the supply/ventilation line is higher than the upper edge of the tank, so that it can always be connected even if the tank is already filled.

A total volume of approximately 3,000 litres capacity is thus achieved. At a residual volume of 1,200 litres, a limit switch indicates that a new container must be connected. This ensures that Reactor 2 can still be loaded.

The core of the system is formed by a dosing pump of the type R409.2-350e, with all required fittings mounted on a mounting plate. The metering pump is equipped with a stroke frequency transmitter, which gives feedback to the parent control to calculate the required dispensing quantity. In addition, two magnetic inductive flow meters connected in series were installed to monitor the dosing accuracy.

The dosing system is mounted with optimal protection inside the receiving frame and was fully lined with stainless steel. The piping consists of a line strainer, which is attached to the suction side, several shut-off valves, as well as an overflow valve and a pulsation damper, which are mounted on the pressure side.