Technical Publication: Preparation- and dosing station for flue gas desulphurisation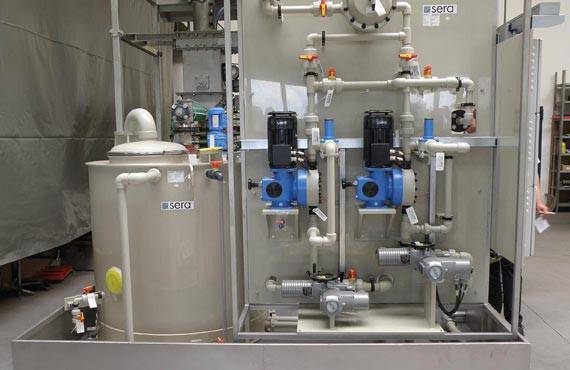 One of the latest developments from sera is a mixing and dosing station with big-bag unloader for a flue gas desulphurisation plant.
This was tailored in close consultation with the customer precisely for the application – removal of sulphur compounds from the exhaust gas of a power plant. The most important factors for the design of the plant were the local conditions, the power-plant-related specifications, and the individual power requirement of the customer.
The station consists of the following components:

• Accessible platform for changing the hook when using a ceiling crane or electric
winch
• Electric winches with load-lifting cross-bar for BIG-BAG tightening
• BIG-BAG support plate with vibrator
• Volumetric metering screw with loosening stirrer and heating
• Mixing tank with agitator and filling level measurement
• sera dosing station with diaphragm pumps and accessories

All challenges mastered

What had to be taken into account in particular were the peculiarities of adipic acid as a raw material. This is used as an additive for exhaust gas or flue gas desulphurisation. Supplied as a powder, it strongly tends itself to moisture-induced sticking and clumping in this form. The chemical in powder form is introduced into disposable BIG-BAGs in the receiving frame.
To prevent the powder from clumping, the receiving frame was equipped with a special vibrating mechanism.
For the emptying station sera also delivered an optimal solution: The safe and low-dust extraction of adipic acid is regulated by a screw conveyor. The screw conveyor is fitted with a decompaction agitator and trace heating. The mixing of the adipic acid is level-controlled in the corresponding dosing tank – in dependence on the desired concentration of the adipic acid.
For this purpose the tank is fitted with continuous, ultrasonic level measurement. First the dilution water is filled, then the powdered chemicals are conveyed into the tank with an auger in a timecontrolled manner. There it is mixed with water and dissolved.