Solenoid diaphragm pumps of type C204.1, controllable
Flow rate from 0,4 l/h to 35 l/h, counter pressures up to 10 bar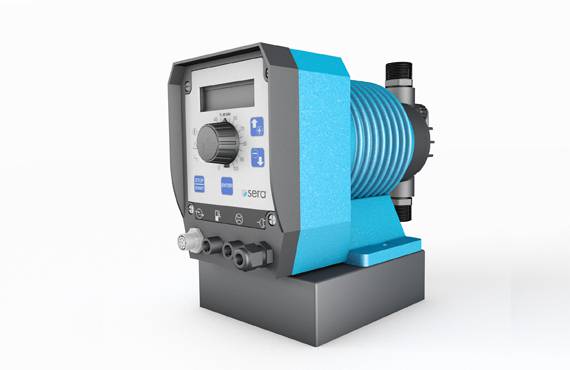 sera Solenoid Diaphragm Pumps are designed for the exact dosing of liquid media in all industrial fields. The dosing control is performed process-bound for the most part.
Product documentation:
http://www.sera-web.com/en/download-center
Our team is there for you!
Do you have any questions about this item or need more information?
Capability characteristics
Directly controllable
PROFIBUS-DP-Interface
High dosing accuracy
Long service life of diaphragms*
High qualitiy materials
Linear control characteristic
Low maintenance
Low operational costs
Leakage-free
Unlimitedly safe to run dry
Easy to operate
Low weight
*in comparison with previous commercially available drive diaphragms
Application
Flow free mediums with the following characteristics:
aggressive
abrasive
radioactive
flammable
odorous
toxic
Design and function
The liquid is conveyed by a deformable drive diaphragm. This membrane is connected via a connecting rod fixed to the drive magnet and so is deflected to the suction and pressure strokes.
Solenoid diaphragm pumps consists of the follwowing (main) components:
Drive housing with solenoid
Elektronics with connection on the control panel
Built-in pump
Pump body
Manual vent valve
Suction valve and pressure valve
Materials and options
A suitable material is available for each dosing medium!
Pump body and Valves: PP-FRP, PVDF-FRP, PVC, PP, PVDF, 1.4571
Valve balls: PTFE, 1.4401, Al2O3
Valve seals: EPDM, FPM, FEP-covered, FFKM1)
Working diaphragm: PTFE-faced
Manual vent valve1): PP-FRP, PVDF-FRP
1) only with pumps in FRP-execution, 1,2l/h till 14 l/h
Please ask us for any material required but not mentioned here
Available designs
| Type | Q (at 50 Hz) | p/max. |
| --- | --- | --- |
| C204.1-2,4e | up to 2,4 l/h | max. 10 bar |
| C204.1-7,0e | up to 7,0 l/h | max. 10 bar |
| C204.1-10e | up to 10 l/h | max. 6 bar |
| C204.1-35e | up to 35 l/h | max. 1,5 bar |