HYDROGEN REFUELING STATIONS
"Water will be the coal of the future". Jules Verne recognised this as early as 1870, writing in his novel "The
Mysterious Island" that tomorrow's energy will be water which has been decomposed by electricity, and that
its elements (hydrogen and oxygen) will provide the earth with an indefinite supply of energy.
At a time when fossil fuels are running out and environmental protection is becoming increasingly essential to
our planet, sera GmbH has made a commitment to this very vision – which is why we have developed and
launched our innovative hydrogen refuelling station as a ground-breaking step towards the preservation of
our environment. Hydrogen technology: the fuel of the future.
DOWNLOAD
DESIGN AND MECHANICS
Technology container
The technology container is the sera hydrogen refuelling station's core element. Modular in design, the technology container is equipped with ultra-modern compressor systems, cooling units, valve technology and a control unit.
First, hydrogen is compressed to up to 900 bar using compressors, and then stored in buffer tanks until needed. The buffer tanks can be situated either inside or outside the technology container.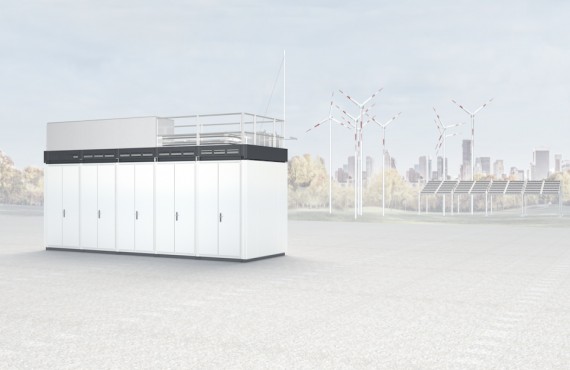 Large-capacity cluster
A large-capacity cluster is a rack containing bottled gas. All the gas bottles in the cluster are connectedto each other by pipelines and valves. This storage method is ideal if the system is to be expanded at a later date, as any number of clusters can be set up. The same method also allows very small quantities to be stored.
Dispenser
The final step in hydrogen refuelling takes place at the dispenser unit. This unit incorporates a nozzle, filling hose, display and control technology. A payment terminal can be positioned separately.
Users can start their refuelling process quite conveniently via a display. A short step-by-step guide follows until the nozzle is securely attached to the filler neck of the vehicle's tank. Hydrogen cooled to as
low as -40°C then flows through the nozzle into the hydrogen tank in the vehicle. The dispenser developed by sera can refuel vehicles
at 350 bar as well as 700 bar. We offer this dispenser with either one or two nozzles.
The compressor is the "heart" of our hydrogen refueling station.
Our metal diaphragm and piston compressors are used in our tank systems.
Read more

MODULAR DESIGN
Thanks to standardised modules, the hydrogen refuelling station
can be perfectly tailored to customer needs. Subsequent add-ons
are no problem.
HIGH FLOW RATES
Our innovative piston compressor allows for high flow rates,
which makes frequent refuelling easily achievable even with high
discharge volumes.
RELIABLE & LOW MAINTENANCE
Our compressor's slow stroke puts little strain on wearing parts,
giving them a long service life.
EASY TO SERVICE
Our system container has been designed so that every technical
component is easily accessible. This lets you minimise servicing
time and guarantees smoothness in use.
QUIET OPERATION
During development, special care was taken to keep noise emissions
as low as possible so that the sera hydrogen refuelling station can also be used in noise-sensitive areas.
LOW ENERGY CONSUMPTION
The electrohydrostatic drive and low friction in our innovative compressor technology ensure low energy consumption.
sera SYSTEM SOLUTION
How does the hydrogen get to the sera hydrogen refueling station?
sera offers various system solutions for this, covering operational and public application areas.
In our schematic illustration you can see the construction of the hydrogen refuelling station for operation with an on-site production or hydrogen delivery by trailer.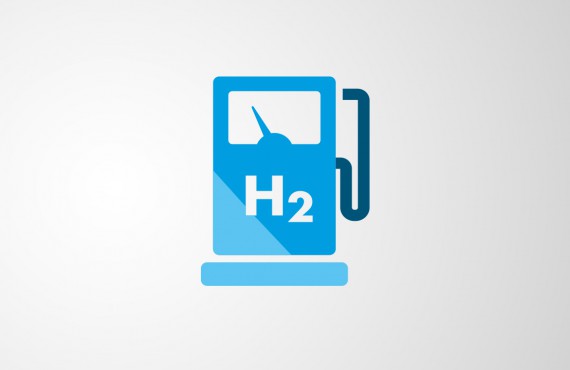 ON-SITE PRODUCTION
In this scenario, hydrogen is produced locally by an electrolyser and fed directly into the refuelling station system. The hydrogen is then compressed to the required pressure level by one of our innovative compressors. From there it goes straight on to fill the storage tanks, where it is then available for dispensing.

SUPPLY VIA DELIVERY
One way to guarantee the supply of hydrogen at the refuelling station is to have it delivered by trailer. In this case, the hydrogen must be produced at another location before being delivered in a trailer. The tanker's driver attaches it to the sera supply cabinet and allows the hydrogen to flow into the storage tanks.