Piston diaphragm pumps of type C409.2-KM, controllable
Flow rate from 7,5 l/h to 190 l/h, counter pressures up to 80 bar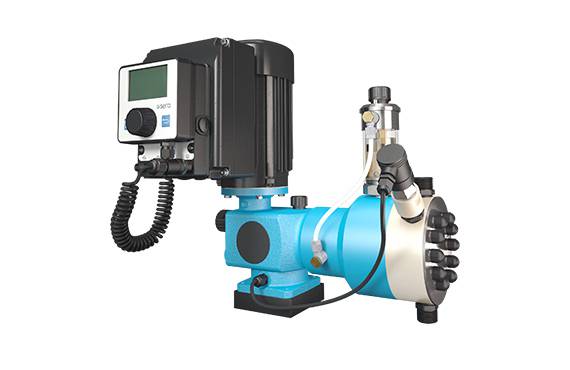 sera piston diaphragm pumps C409.2-KM are leakage-free oscillating displacement pumps designed for the dosing of volumes. They are an ideal combination of the high supply pressure of a piston pump and the perfect leak-proofness of a diaphragm pump.
Download product information:
​Product information Series 4 Piston Diaphragm Pumps
Our team is there for you!
Do you have any questions about this item or need more information?
Capability characteristics
Leakage free
Higest dosing accuracy
Dry safety run
High quality materials
Continuous operation with minimum maintenance
Long operating life
Easy to operate
Integrated safety device against overpressure
Micro-processor controlled
Controlled by standard or digital signals
Dosing monitoring
Level input
Field of application
Flow-free mediums with the following characteristics:
aggressive
abrasive
viscous
radioactive
flammable
toxic
Design and Function
Thanks to the built-in multi-layer diaphragm safety difficult metering tasks can be performed with ease.
A diaphragm rupture signale supports the safety via a pressure switch an a manometer.
Materials and Options
A suitable material is available for each dosing medium!
Pump body and valves: PVC, PP, PVDF, 1.4571, Titan, PP-FRP, PVDF-FRP
Valve balls: PTFE, 1.4401
Valve seals: EPDM, FPM, FEP-covered
Working diaphragm: PTFE (3-ply)
Please ask us for any material required but not mentioned here
Available designs
| Typ | Q | p/max. |
| --- | --- | --- |
| C409.2-7,5KM | up to 7,5 l/h | 80 bar |
| C409.2-10KM | up to 10 l/h | 80 bar |
| C409.2-18KM | up to 18 l/h | 50 bar |
| C409.2-45KM | up to 45 l/h | 25 bar |
| C409.2-95KM | up to 95 l/h | 16 bar |
| C409.2-190KM | up to 190 l/h | 8 bar |